High performance 18650 3400mAh 3.7v Rechargeable Li-ion Battery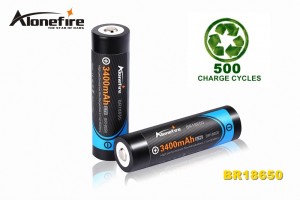 Specifications
Model: BR18650
Capacity:   3400mAh
Voltage :   3.7v
Charging current:   Recommended 450ma-1A, Maximum 2A
Weight:     48g
Size: Diameter: 18.5mm,  Height:65.8mm
Tests showed that:  Recycling charge-discharge > 500 times
1. quick charge.
2.through professional instrument for 48
hours aging in clay pot machine test,
guarantee 100% performance (use safer)
3. safety and environmental protection.
You wise choice.
Accessories include:
18650 battery X 2
battery Box X 1
Warranty card X 1
Warning:
1.Advice Uses on ALONEFIRE products
2.Please take out the battery from the light when not in use.
3.Do not disassemble short circuit or heat.
4.Do not mix with used batteries or different battery types.
environmental friendly.
5.Do not expose the battery to heat or throw it into water,
Avoid condensation
6.Please charge the battery in time when the power is low,
to avoid damaging to the battery.